We are organizing a Metaverse Hackathon in Sicily with Italian and French high school students. The objective is to teach 40 students aged 14 to 16 to create a virtual environment in a limited time. Mr. Yohann Le-Boulair, passionate about new technologies, teacher and IT manager of the Lycée International de Saint-Germain-en-Laye wanted the students to be able to co-construct a project together and to be proactive with new technologies. XR Pedagogy offered its support.
What is a Metaverse Hackathon?
The hackathon pulls together designers, developers and others who want to join forces to solve real-world problems with technology.
The Metaverse Hackathon is a concept created by XR PEDAGOGY that consists in having students work in teams to create a multi-user virtual reality (VR) environment. The students must develop together an environment to answer a given problem.
What are the educational objectives of a Metaverse Hackathon?
Share our knowledge and form a learning community around virtual reality and Metavers for mathematics and logic;
To train teachers and students in the use of a digital tool for an innovative pedagogy;
Promote pedagogical continuity without borders;
Innovate in teaching;
Encourage students to communicate in a foreign language in very concrete situations of teamwork, give meaning to foreign language learning;
Learn to identify a problem and find technical solutions in a limited time by working in an international team;
Discover metavers, their potential and their risks.
Stimulate vocations for the new digital professions.
Take advantage of the virtual reality equipment of the school.
How to run a Metavers Hackathon?
The main steps :
Train teachers to create virtual spaces.
Train teachers to supervise students in a virtual reality activity.
Prepare and procure materials.
Organize a venue for the Metavers Hackathon.
Train students on how to use virtual reality and the platform used during the Hackathon.
Take advantage of the space created to encourage students to continue the activity beyond the hackathon.
The platforms to create a Metaverse
Developing a multiplayer virtual environment requires technical skills and is not yet within the reach of everyone. Outsourcing the development can be a large budget and a large project. Fortunately, the alternative is to take advantage of existing platforms that make it fairly easy to create virtual environments.
There are several platforms for creating virtual worlds that do not necessarily require knowledge of computer development. The most famous are:
Un Hackathon Métavers en Sicile en 20 hours !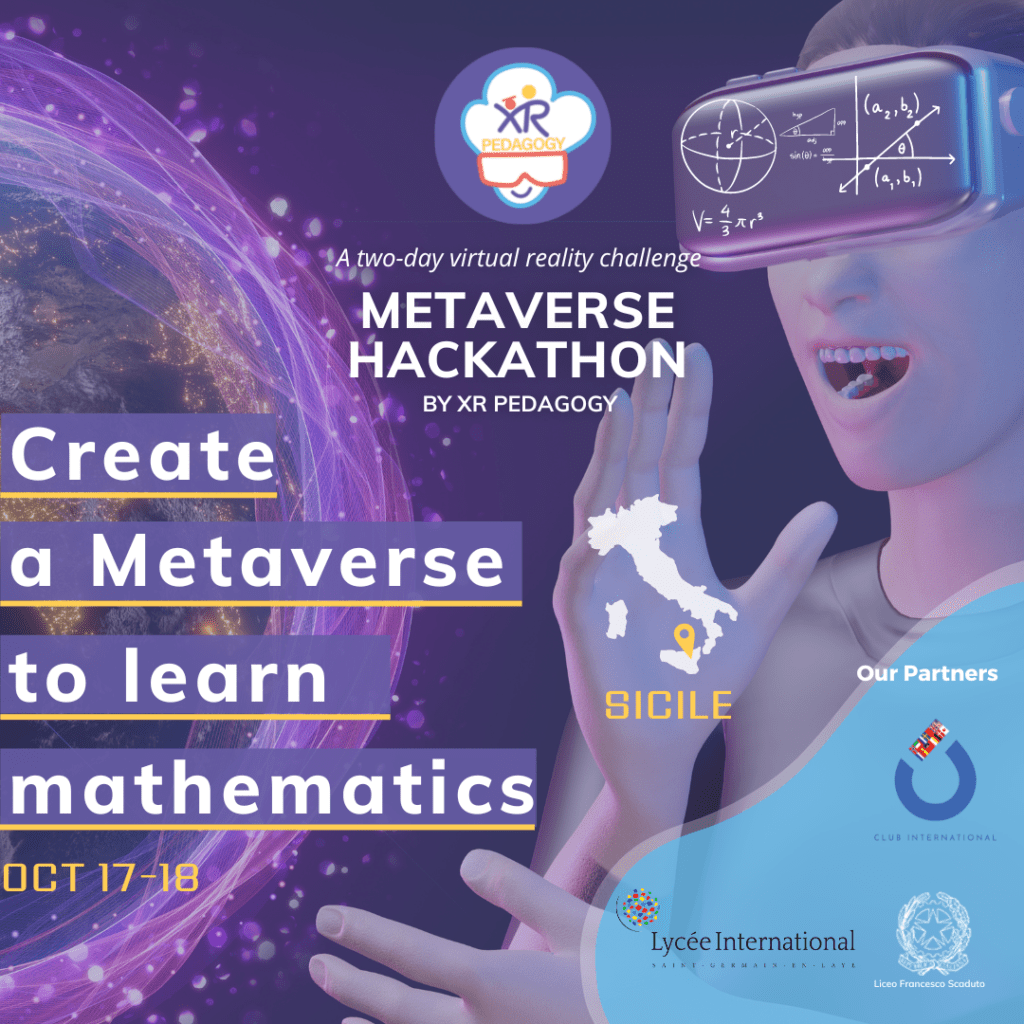 In this project, the XR PEDAGOGY team accompanies the Lycée International de Saint-Germain-en-Laye to organize a Metaverse Hackathon in Sicily! The project started on September 26th and the hackathon will take place on October 17th and 18th 2022. This project is the initiative of Mr. Yohann Le-Boulair, a mathematics teacher at the Lycée who wanted to promote educational continuity without borders. This project is financed by the International Club which is a collective of students' parents and the Délégation au Numérique de Versailles has also supported the project by lending 2 virtual reality headsets.
Creativity and pro-activity with virtual reality!
To have Italian and French students work together to create a virtual reality (VR) environment where they can meet for mathematical and logic activities. In this project, the Metaverse is a collection of private virtual environments, populated by avatars controlled only by Italian and French students and teachers. The Metaverse Hackathon takes place during the school trip to Sicily, the goal is that this creation will allow the French and Italian students to continue to meet after the hackathon beyond the distance.
The course of the project
Prior to the project, the students and the French and Italian teachers get familiar with the world creation platform. Then, during the school trip, the students have one and a half days to create one or more worlds where they can meet, using a virtual reality headset or a computer. After the trip, the students will find themselves in the virtual worlds created for math activities. These worlds will be accessible with virtual reality headsets but also with computers.
The Metaverse Hachathon pack
XR PEDAGOGY's support includes upfront training, project management, help with equipment selection and on-site support during the event.
We'll keep you updated on the project, follow us on Social Networks!